Home >Our New House:
So we did it... we bid on it, we won it, we own it, and we are in debt...but it's perfect. Check out our house in Rockville!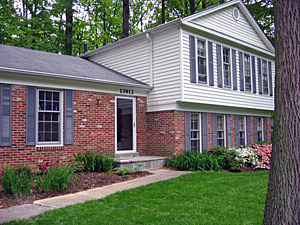 So how did we get it? We still aren't quite sure.. luck maybe. It was the first and only house we bid on...and then lost on. Weeks later, when we were once again looking at houses, and Abby was in New Mexico working, Sean got a call that the seller no longer liked the nit picky buyers and wanted to know if we were still interested. We were. Long story short...we got the house!
The house is located in a great spot ...practically 5 to 10 minutes from everything and in a quiet pretty neighborhood. Our front yard is huge, and we have a nice fenced in backyard (perfect for a Bichon or two) and a deck. We have 4 upstairs bedrooms, 2.5 baths, and a jacuzzi tub in the master...*happy shiver*. There is also a garage, fireplace, den, hardwood floors, and a partially finished basement. The house is bright with a lot of windows and huge old trees decorating the yard.
So what are we eventually going to get rid of? Well the wood paneling and flower wallpaper are on the top of the list. What are we going to add? Furniture--a piece at a time...a gas oven, a new dishwasher, and well did I mention furniture?
We are going to be moving in June 11th, 2005 and will add pictures (including the funny ones of people carrying things that are too heavy for them) soon!
Important Dates:
Date We Offered:
May 1, 2005
Date We Lost:
May 2, 2005
Date We Offered Again:
May 13, 2005:
Date We Won:
May 14th
Date We Closed:
June 6, 2005
Date We Moved In:
June 11, 2005