Home >Getting Married :

It happened! We are getting married! Still not exactly sure when, but you can keep updated on that via our "Knot" website at:
You can get all the details of how it happened (On Easter morning...), when it's happening, and where it's happening there for now. It even has an exciting little count down.
But, meanwhile, look at my ring!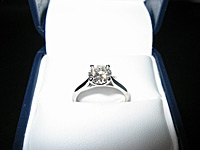 Sean picked it out all by himself and it's perfect! It is so me..and what I would want. For those of you who want specifics... it's 1.03 carats, round brilliant cut, platinum band, and has a low pretty setting. The ring also has hearts and arrows... which means the diamond facets has perfect symmetry and proportion and therefore exhibits a hearts and arrows pattern (Can only been seen through a spectroscope while diamond is not in the setting. http://diamonds.pricescope.com/hna.asp -Sean). Neat, huh?